So this is the time of year when things get a bit busy! If you have kids, then it's time to start thinking Halloween Costumes (possible a tutu?), then it's Thanksgiving, and before you know it.... Christmas! Yes, I said it, and really it is almost here!!!!!
So heres what is in store for me in the upcoming months: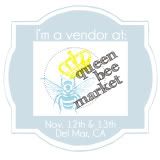 If you need a great place to begin your holiday shopping, come in and check out all the amazing vendors at The Queen Bee Market! I am lucky enough to be doing this for the second time, and am so excited for what they have in store for us!!!! Seriously, its the best of the best, and you are supporting the handmade community... many of which are SAHMs!
Also, I will be returning to my old Elementary School (Westwood Elementary) in Rancho Bernardo to be a vendor at a Holiday Boutique they are holding as a PTA fundraiser. If you are local you should drop by and check this one out as well! Novermber 5th during school hours.
So since I LOVE new projects... I have lots prepped for these shows! Heres a sneak peek...
Also... not pictured yet... but soon!!!! BOY Stuff!!!! YES for BOYS!!!!!